Straps
Comfortable and strong.

Reinforced & Removable Fin
Strong and durable. Capable of withstanding 'unplanned' impacts with the beach.

Robust
Able to withstand bumps, reinforced back to prevent damage on the beach.

Shape
Mould developed by Mark Simpson to ensure the board is stable.

Lightweight
Robust and lightweight so that it is able to paddle onto waves .

SLSA approved
Every board is endorsed by SLSA
Surf Rescue Boards
Infront Surfcraft continues to provide many of our Surf Life Saving Clubs around Australia with lifesaving Surf Rescue boards, both epoxy and soft foam.  Our strong and durable rescue boards can be used across all beaches (SLSA approval compliance decal included).
10'6 SURF RESCUE BOARDS (SOFT /  EPOXY)
Infront have used all of the valuable input and feedback over the years to develop a premium new and improved 10'6 Rescue Board fitting for lifesavers in all surf conditions.
8'10 SURF RESCUE BOARDS (SOFT /  EPOXY)
Our 8'10 Rescue Board range is perfectly designed for training both beginners and young surf lifesavers. The three-quarter board assists with the transition from nippers to lifesavers and is also suitable for those smaller lifesavers.  The board provides lifesavers confidence to ensure efficient operations are performed on their beach when saving lives.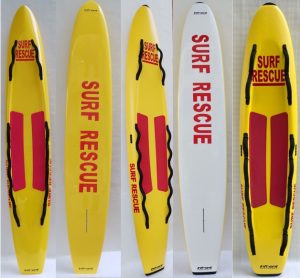 If you have any questions at all, please give us a call on  0402 383 584.